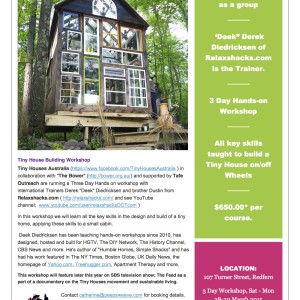 This is the second tiny house building workshop in Australia, that I now of.  It's pretty exciting. The tiny house movement is really starting to take hold here in Oz.
But that's not all, this workshop is supported by The Bower,  who are hands down my favorite place to go for second hand building materials in Sydney.  Tiny Houses Australia contacted The Bower to initiate the project.  This is a good sign that salvage building and using recycled building materials is becoming part of the tiny house culture in Australia.
The workshop presenter is Deek Diedrickson and is brother, who are tiny salvage building superstars, back in the U.S.  Actually, I am not sure there is such thing as a superstar in the building world, but these guys do have a rather entertaining youtube channel, relaxshacksDOTcom, MTV meets salvage building, on a tiny scale.
Derek 'Deek' Diedrickson, is really active in the tiny house community, in the U.S.  He has been teaching tiny house and small scale building for years now and works with Tumbleweed Tiny Houses as well as by himself.  He is also a mad proponent of salvage building and creative use of materials.  I could not think of a better person to learn from. I know there is not many places in the workshop, so if you have ever considered building a tiny project and are a fan of using recycled building materials, book it now!